Immigrants Rally in Scores of Cities for Legal Status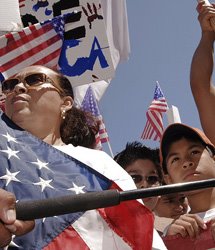 Marchers, from left, Emeritt Guajardo, Jonathan Vasquez and Juan Ramirez line up behind a police baton in Dallas, Texas, where an estimated 500,000 protestors marched on Sunday. People rallied nationwide on Sunday with 20,000 in San Diego, 7,000 in Miami, 4,000 each in Birmingham, Alabama, and Boise, Idaho, as well as other cities in peaceful, forceful displays of support for the cause of immigrants.
Millions more marched yesterday. They want to be part of the American Dream.
I feel a definite solidarity with the Latino demonstrators having arrived in this country as a young Irish immigrant more than 40 years ago. What's that about "Give me your tired...".
Photo: Jensen Walker / Getty Images. Courtesy of
Truthout
.